Now showing
(downstairs)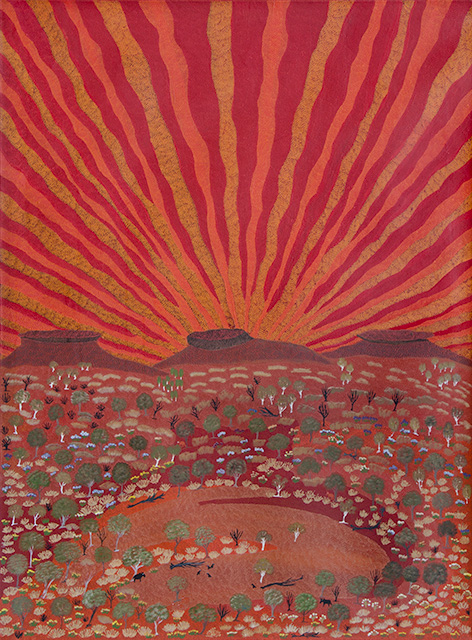 © Kathleen Nanima Rambler
Artists of Ampilatwatja
Mwerr-angker Alpert
(Pretty Flower)
A very refined show with 12 artists & 12 artworks, Artists of Ampilatwatja return to Brisbane with their distinctive paintings of Central Australia. These artists combine fine dot paintings with a figurative style featuring flowers and bush medicine flora from their surrounding country.
Attending the opening will be the art centre co-ordinator Caroline Hunter and artists, Kathleen Nanima Rambler & Michelle Pula Holmes.
Exhibition Dates
25 July – 26 August 2017
Artists talk
Saturday afternoon, 29 July from 3.30pm
~
(downstairs & upstairs)
Piyali Ghosh
Insomnia 2
After her solo exhibition Insomnia 1 in 2015, Indian artist Piyali Ghosh returns to Brisbane to further explore connections between culture, environment and thought processes.
This exhibition is a collection of drawings, sculptures, video and performance pieces bringing tangible form to the delicacies and delirium of the mind. Insomnia 2 delves deep into the complexities of emotions and their connections to the ecosystems they inhabit. Working with organic matter such as uprooted driftwood, Piyali renders these connections visible through intricate drawing.
Exhibition Dates
25 July – 26 August 2017
~
(downstairs)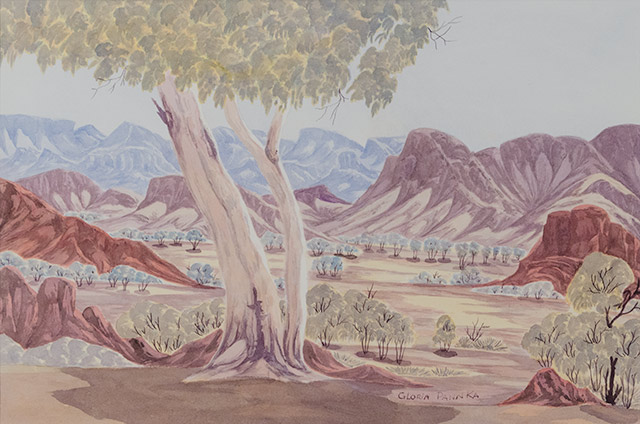 © Gloria Pannka
Iltja Ntjarra (Many Hands) Art Centre
'PMARA NURNAKANHA PARTA-KURTA'
Our Place With Hills
Iltja Ntjarra (Many Hands) Art Centre present a selection of watercolours and prints by descendants and kin relatives of Albert Namatjira.
To coincide with the Queensland premiere of Namatjira Project (a documentary created by Big hART with the Namatjira family), renowned members of the Hermannsburg School of Art, Lenie Namatjira and Gloria Pannka are in Brisbane as honorary visitors.
The artists will be present for the exhibition opening and everyone is welcome to attend.
Opening
Monday night, 28 August 6pm – 8pm

Exhibition Dates
15 August – 23 September 2017
---
Need framing or restoration work done?
Available Tuesday - Friday, our professional custom framer is here to help preserve and present your favourite mementoes and artworks for a fair price. She compliments the range of artist services we already offer.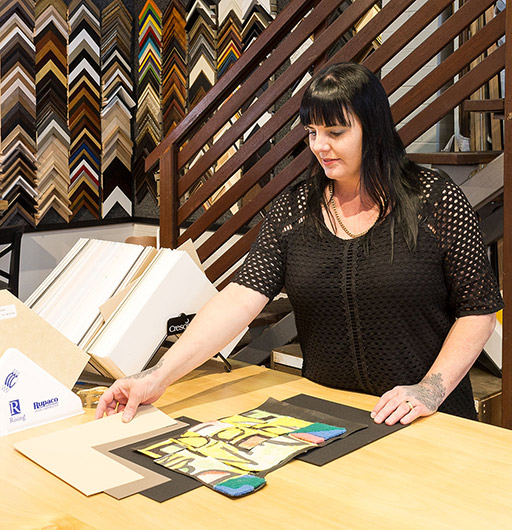 ---
Looking for a unique gift?
Our stockroom is overflowing with goodies to choose from!
Visit the gallery to view available works from previous exhibitions.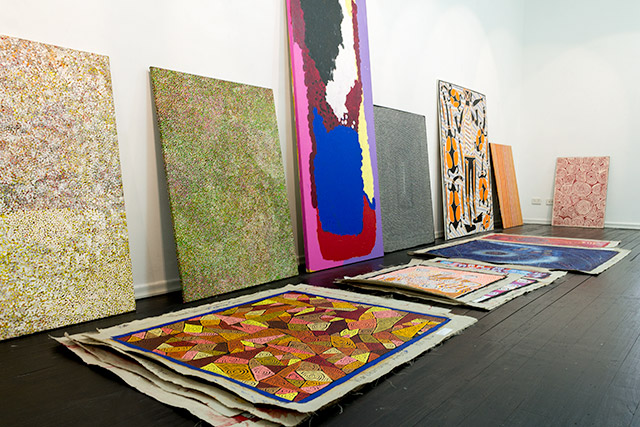 Did you know applicable* Australian small businesses can claim a 100% tax deduction on purchased artworks, up to a $20,000 limit on each piece?
Please support local artists, remote communities and the creative industries simply by improving your workplace.
* It is advised to speak to a tax professional about your particular circumstances
---