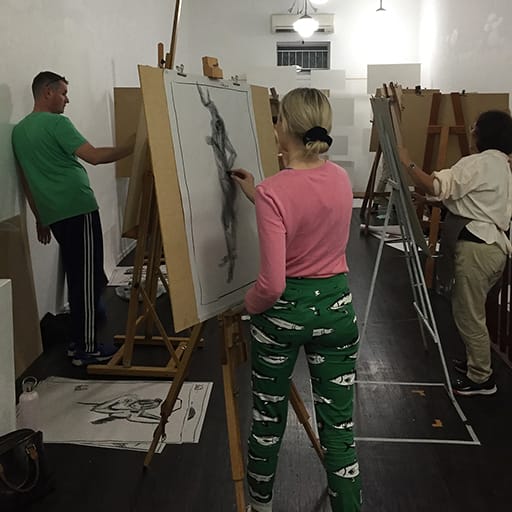 Learn skills to draw hands, face and feet.. create beautiful compositions, guided and inspired by experienced Brisbane artist Maureen Hansen. 
Learn to draw referencing the history of Art, covering the basic skills of observation and developing your own mark.
Course is for beginners and experienced artists. Everyone is welcome.
Cost is $380 (inc gst). All materials supplied. Drinks and nibbles available at the bar.
6 weeks of drawing from a live model every Tuesday evening (6:30pm - 8:30pm) at Woolloongabba Art Gallery.
Dates for class #10: TBA
---
TO REGISTER INTEREST, PLEASE ENTER DETAILS BELOW:
---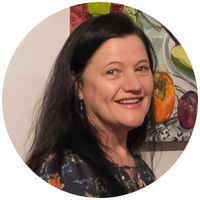 About Maureen Hansen
Typically, Hansen's paintings are known for their saturated color in oil or gouache and their gestural brushwork. Her exhibitions feature landscape, still life and portraiture.
Maureen Hansen trained under William Robinson at QUT in the late 1980's and carries on the tradition of observational painting as influenced by 20th Century Modernists like Matisse, Bonnard and the Fauvist group.
Hansen is a true colorist who paints directly in front of her subject for hours observing changing light from life.
Her work is found in Parliament House Collection Canberra, Brisbane, Ipswich, Redcliffe and Warwick Art Collections. She has been awarded the Tattersalls Landscape prize and Churchie Art Prize.
Overseas, Hansen has exhibited in London and St. Petersburg. Her portrait of Robert Forster of the Go-Betweens was published in the 2017 edition of Rolling Stone magazine in Berlin.
Recent exhibitions @ WAG
2019 From Life: Brisbane Light
2020 Fruit Party for One (links to Maureen's free introductory online drawing course DISCO)
2022 Carbon Kaleidoscope
2023 Cut From The Same Clay